Not a thing of beauty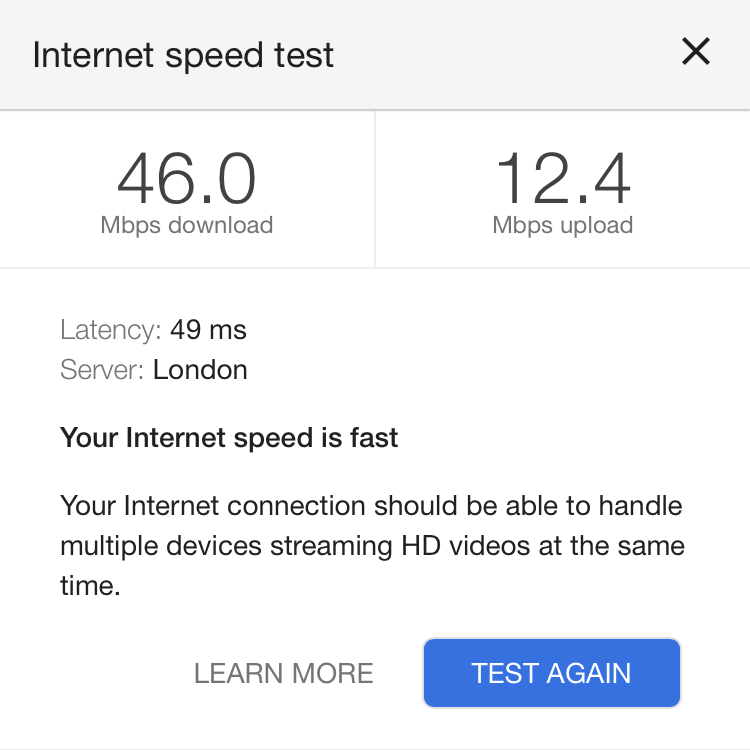 A thing of beauty
Considerations
Latency
Latency is 30-50ms depending on operator in the UK. Video calling at 50ms feels more clumsy than it does on a good fixed line, but if you've bothered to read this far, such a thing is probably a pipe dream for you as well. Some operators also use carrier grade NAT because they've run out of IPv4 addresses, which I've heard can break things.
Mast location, direction and frequency bands
Cellmapper proved really useful for discovering local masts and their specs, which for unfathomable reasons isn't otherwise easily acquired in the UK at least. It aggregates metadata including mast direction, altitude, and frequency band support. Remember that a nearby mast has to be pointing in approximately the right direction to be usable. Frequency can be important for connection speed and reliability; 800MHz tends to offer better range and weather tolerance than 1800MHz at the expense of a little throughput. For speeds much in excess of 10Mb/s, look for masts aggregating multiple bands, indicating support for LTE-A. Despite Three's generally abysmal coverage of the Westcountry, I chose it mainly for this reason along with its low cost.
Antenna type and position
To be considering cellular home broadband, chances are that you live somewhere rural without great mobile coverage. Given a weak signal, even if you don't need an external antenna connected to your modem, chances are that you'll benefit considerably from using one. If you can't get a good signal with a phone, you may need a directional antenna. There are lots of these, but chances are that you should just buy the Poynting XPOL-2 as we did. the omnidirectional version is also a great choice, and both can (and really should) be mounted outdoors. Use a virtual compass like the 'Commander Compass Go' iOS app to help align your directional antenna with the mast if you can't easily see it.